Megan Donahue elected president of the American Astronomical Society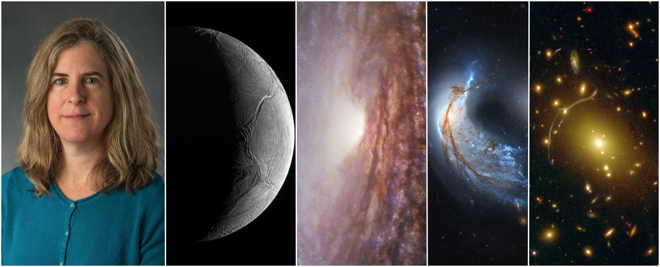 Professor Megan Donahue has been elected president of the American Astronomical Society (AAS).
The AAS is the major professional astronomy organization in North America. Its mission is to enhance and share humanity's scientific understanding of the Universe. The AAS accomplishes this mission through
dissemination of scientific innovation and discovery, advocacy of science to the nation, mentoring the next generation of astronomers, and facilitating communication among members and between members and the general public.
Donahue is an expert in galaxies and galaxy clusters. She is interested in cluster evolution, not only in finding clusters but also in how they are found. She studies the ecology of the cluster systems—the gas between the galaxies, how it falls into galaxies and makes stars and feeds black holes, and how that gas changes in its chemical make-up over time.
Donahue and the rest of the AAS officers and councilors will take office this summer. For a complete list of this year's election winners, visit https://aas.org/posts/news/2017/02/results-2017-aas-election.
The image at top shows Professor Donahue and a montage of astronomical images. From the left, the images are Saturn's moon Enceladus (credit Cassini Imaging Team, SSI, JPL, ESA, NASA); the centrer of the Seyfert galaxy NGC 5033 (credit NASA, ESA, Hubble, MAST—Processing: Judy Schmidt); the Porpoise Galaxy (NGC 2396; credit: NASA, ESA, Hubble, HLA; Reprocessing & Copyright: Raul Villaverde); and the cluster Abell 611, the strong gravitational potential of which is lensing the image of a background galaxy.